I'm very proud to help these amazing clients achieve their goals.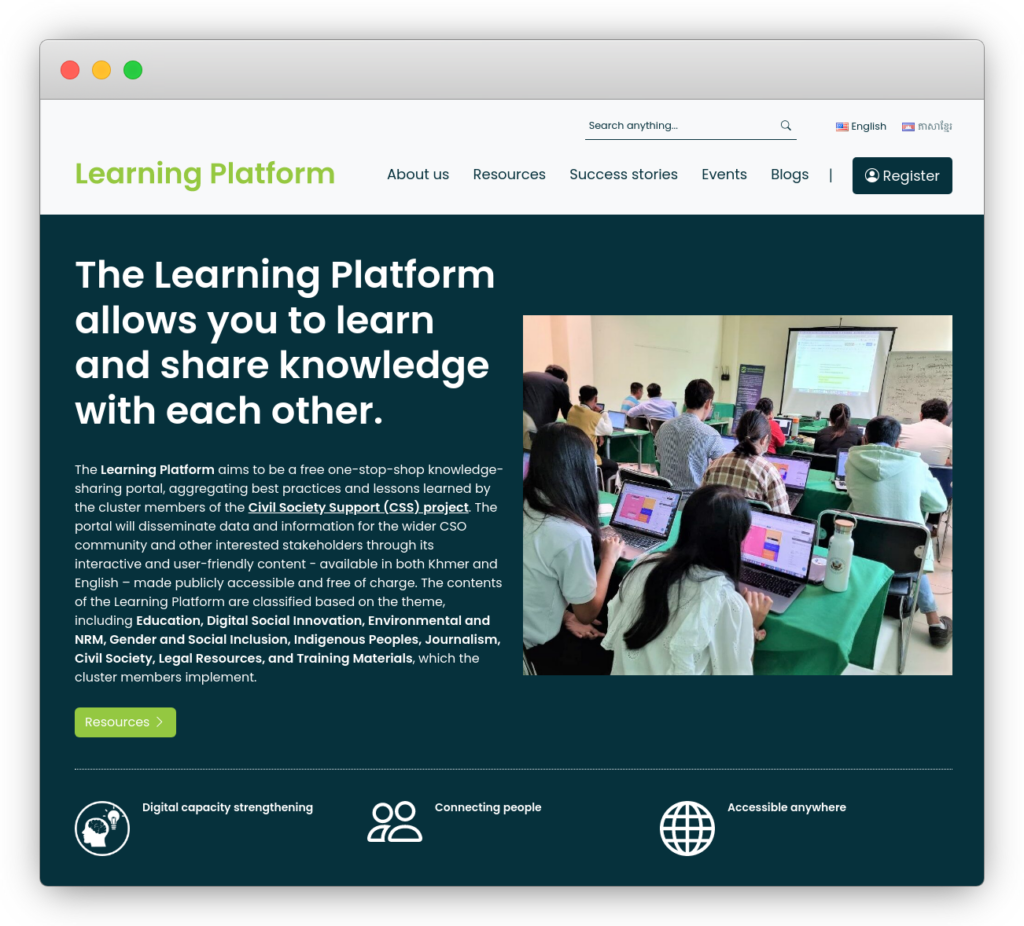 Learning Platform
The Leaning Platform, as its name recalls, is a free one-stop-shop knowledge-sharing portal, aggregates best practices and lessons learned by the cluster members of the Civil Society Support (CSS) project.
The Learning Resource is pulled from the CKAN platform hosted on ODC website.
Visit Site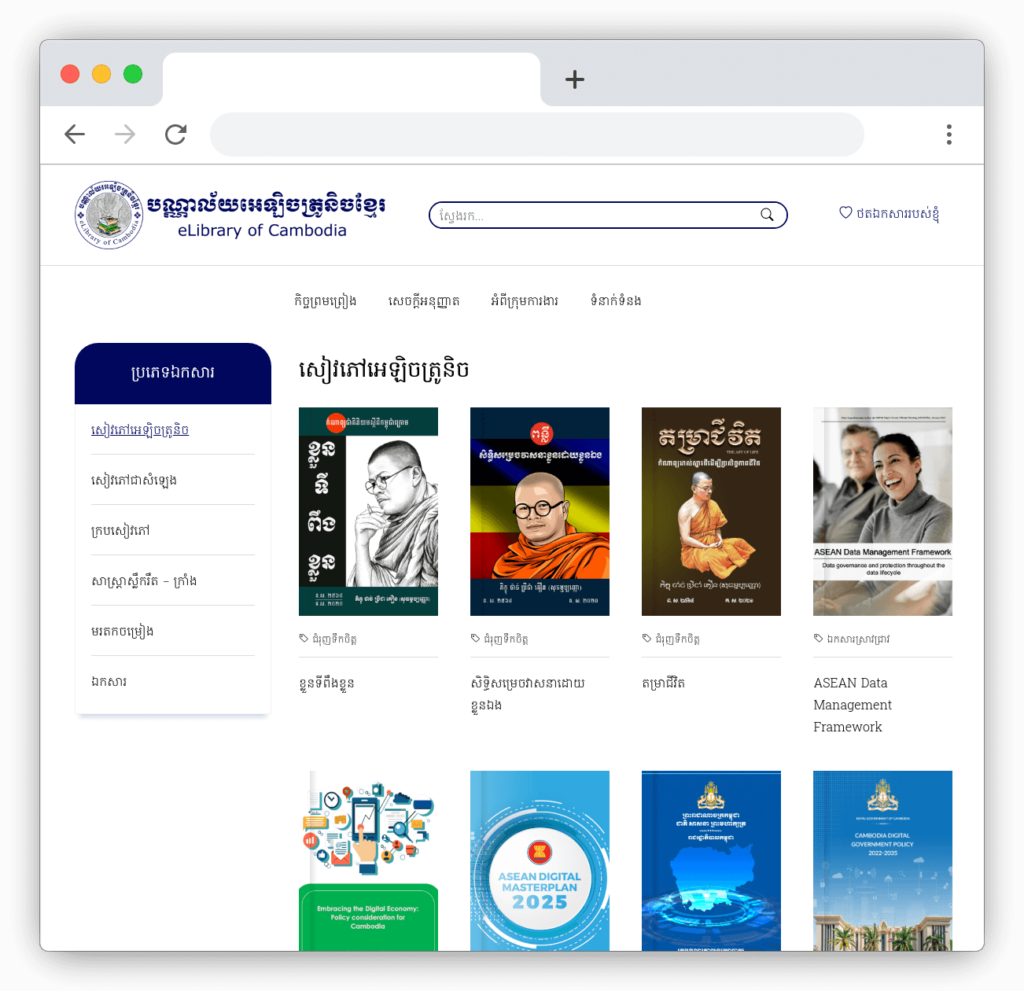 eLibrary of Cambodia
The only place where visitors can find loads of endangered Khmer books, sastra, oldies songs and utmost important documents relevant to the Kingdom.
This website was initially built in 2012 with tens of thousands of posts separated by nested categories. I have proposed a new layout design with separated content types for better management with some additional cool features, such as, wishlist, responsiveness, easy navigations, contact form and a little bit of animation.
The most important part is website speed and security enhancement. I've installed PHP 7.4 to meet WordPress minimum requirements and installed SSL.
Visit Site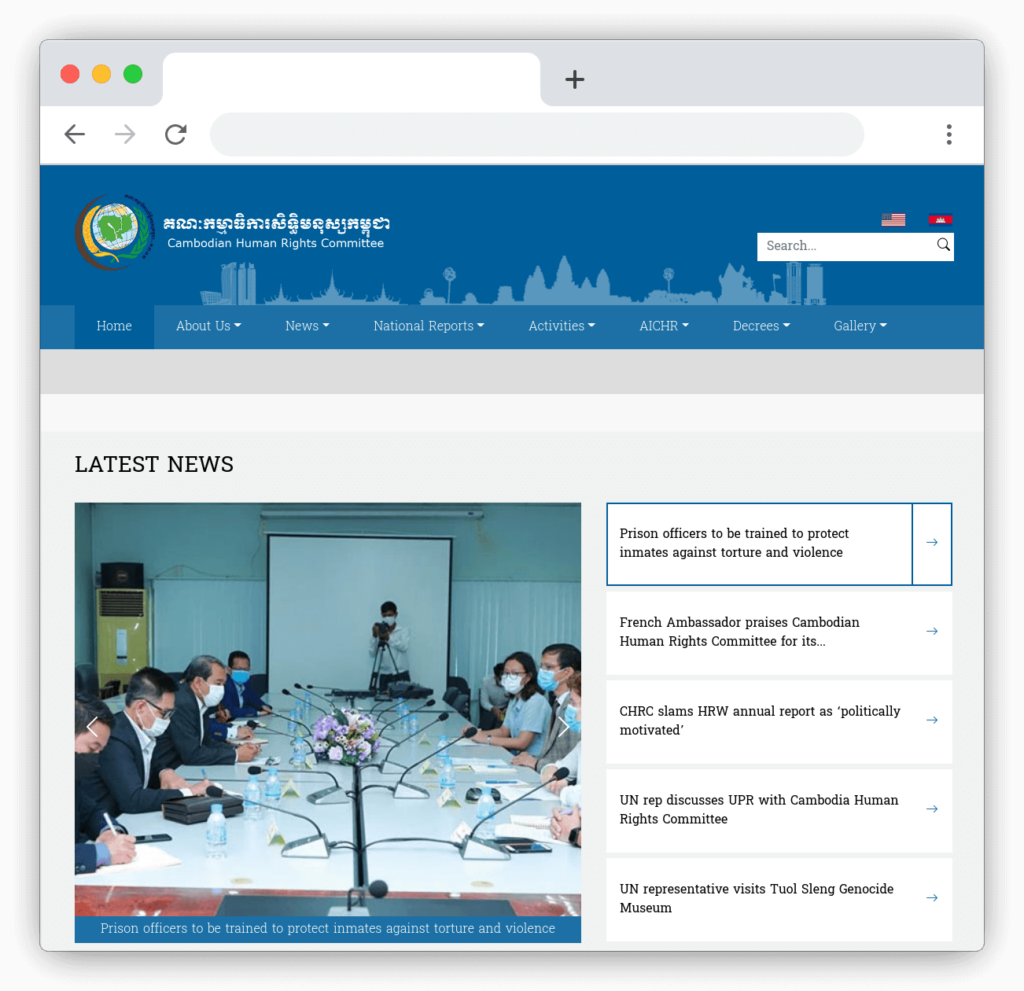 Cambodian Human Rights Committee (CHRC)
The website is multilingual, in Khmer and English, with rich content structures. The content is categorized in several post types along with their corresponding taxonomies.
The critical part of the development that challenged me the most was the Media section where users can filter media by taxonomies and the animation attached to them.
Visit Site
Sombok IT Market
The project sits on a subdomain of sombokit.com and served as a marketplace for Sombok IT clients who wish to sell their used products.
The website allows users to register their accounts via Facebook and Google. After the admin approval, they can post as listing(s). Again the listing needs to be approved by the admin before it shows up on the website front end. The concept is quite similar to what Khmer 24 provides.
Visit Site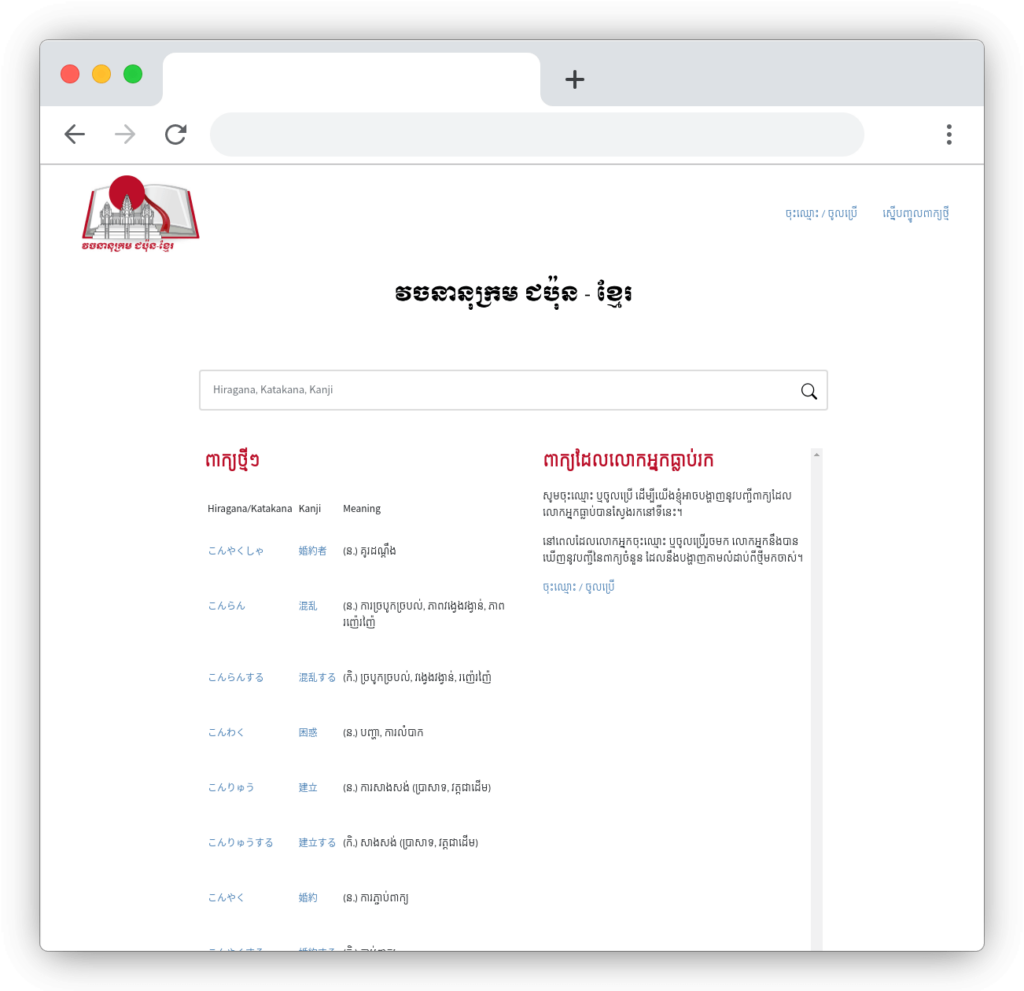 Japanese Khmer Dictionary
The site has more than 100k words (more to come) but the speed is tremendously fast.
The cool functionalities are Ad Management, Ajax dropdown search and the search history for subscribers.
Visit Site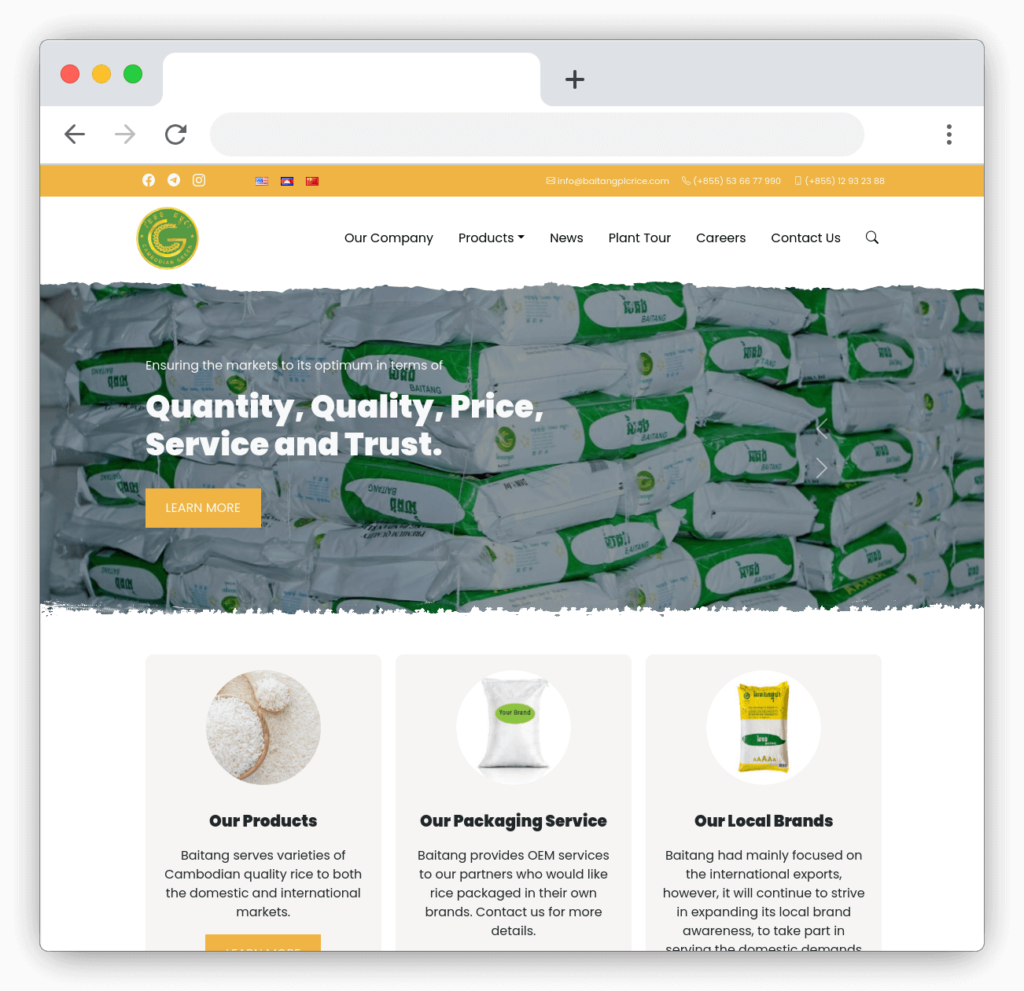 Baitang (Kampuchea) PLC
A long experience rice milling business based in Battambang, northwest of Cambodia.
This new version of the website includes a multilingual, complex layout and ease of content management features.
I've made use of the available Twitter Bootstrap 5 features and the help from the WordPress block editors as well.
Visit Site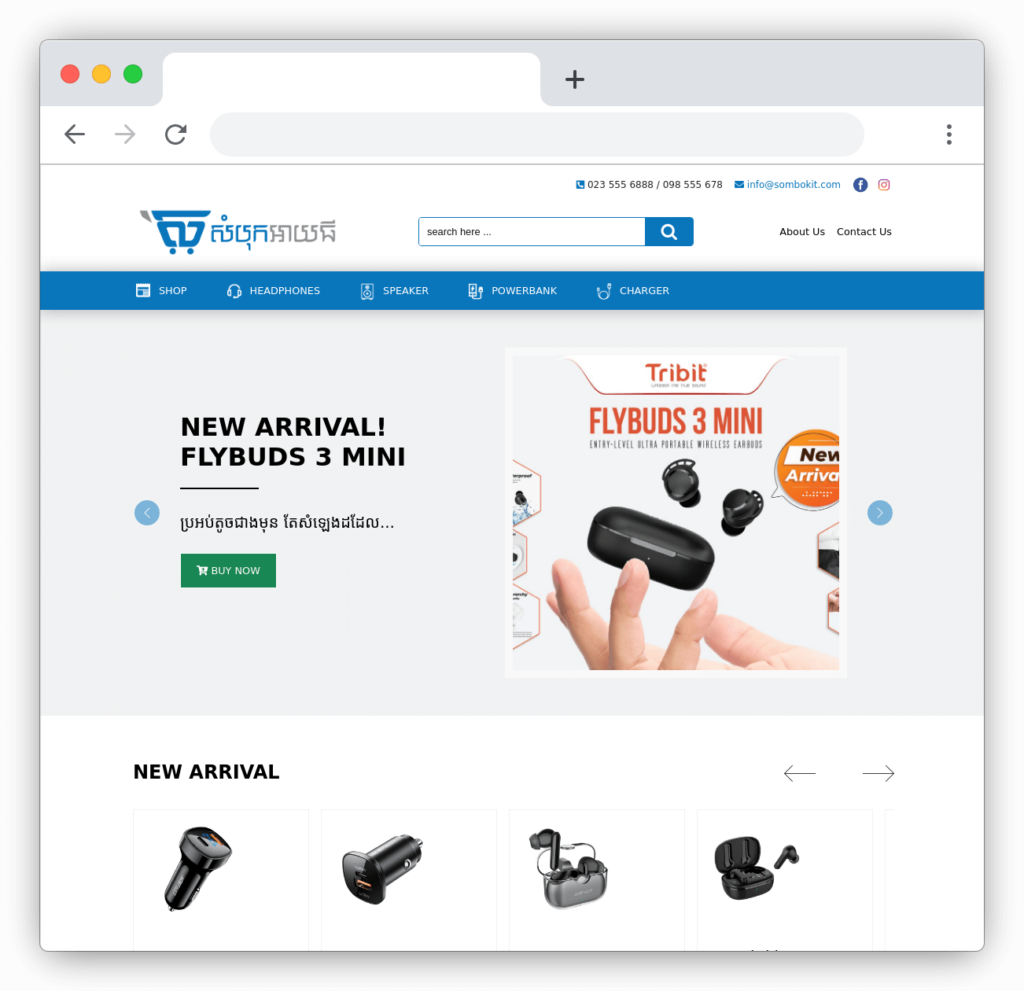 Sombok IT
This website was built a long time ago. The codes were old and hard to hack into. I was asked by Sopheak, the owner of the store and also my close friend at Barcamp, to help implement the order/checkout of the WooCommerce functionality.
My duty was to provide a box with a minus (-) and a plus (+) signs sat between to provide users with ease to manage the number of items they wish to make the order. There were also production variable options that enable buyers to choose from colors/sizes, etc. After the purchase is made, the email is sent to the admin as well as to the buyer who made it. This was done by integrating the Google G-Suite Service to the SMTP plugin that supports WooCommerce.
Then came the checkout phase. The store provides two options for buyers to pay, either to pay on arrival or to pay right via the PayWay third party.
Visit Site
Kim Hak
The photography website to showcase the work of several important topics.
Kim Hak is a genius photographer with decades of experience and his works appeared in various international exhibitions.
My duty was to improve its previous appearance to a new, modern and fast website. The tasks were, such as, installing HTTPs, using Twitter Bootstrap 4 and made use of its available functionalities, moving this new website to a cloud VPS hosting to support the latest version of WordPress as well as to improve the speed.
Visit Site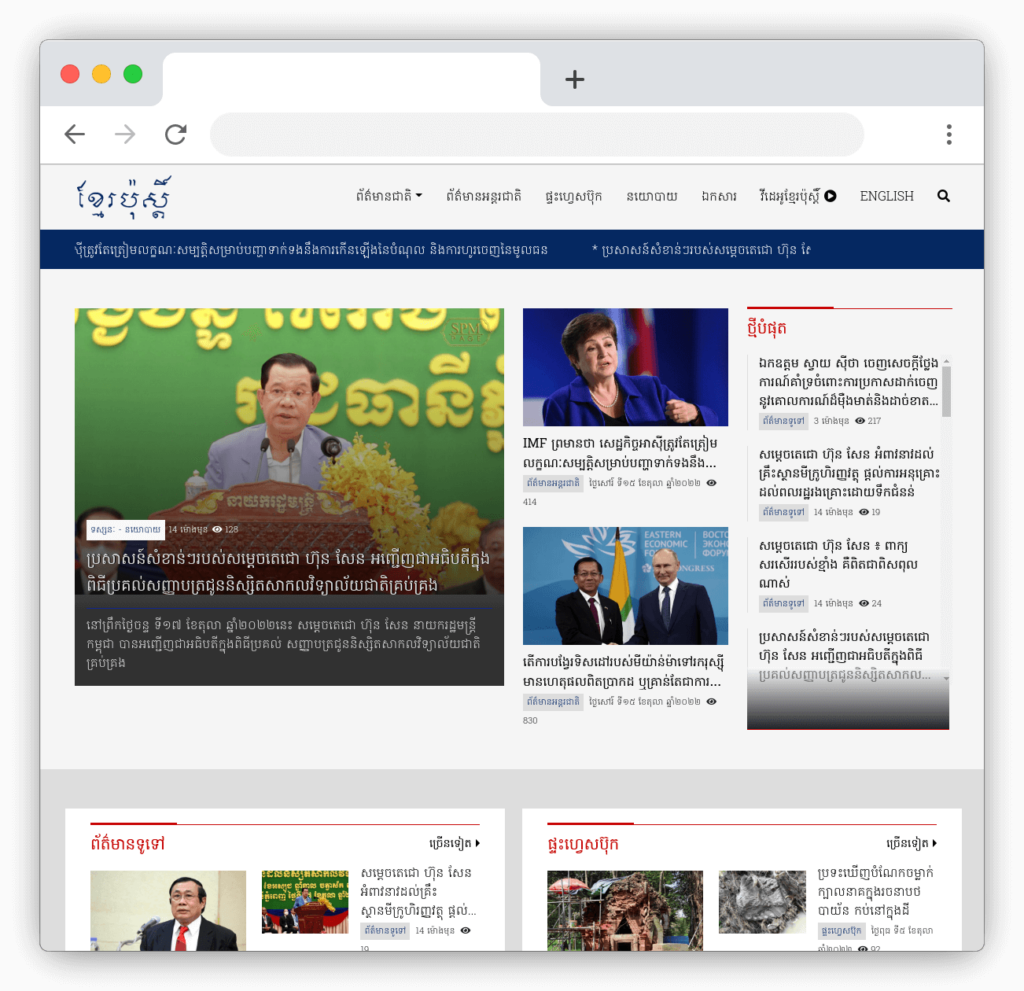 Khmer Post Asia
The media agency consists of several categories, including, but not limited to, sports, local, international, politics, culture, jobs. Khmer Post Asia is built into two separate websites for Khmer and English versions.
Both websites are now in their version 3 with technology updates as well as layout updates.
Visit Site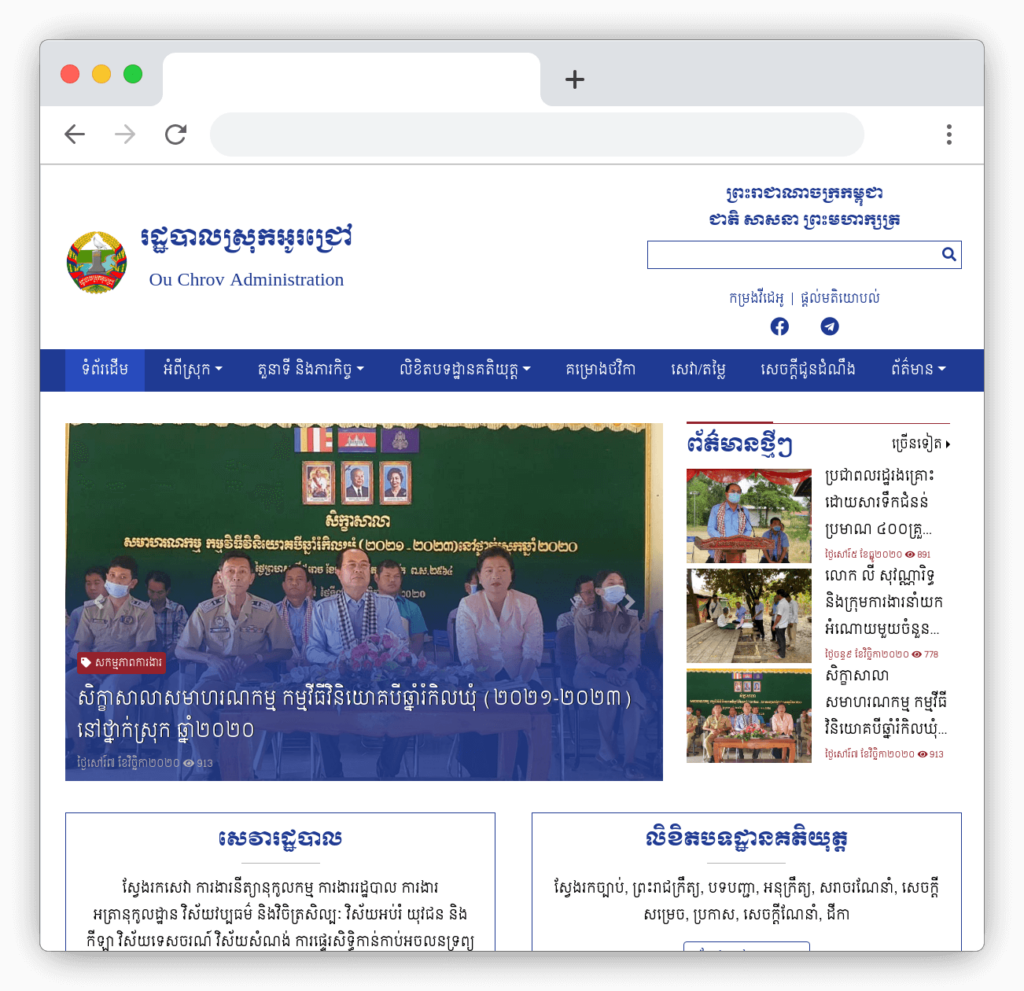 Ou Chrov Administration
I was hired as a website consultant for Open Development Cambodia to work on this project.
The project was inspired by using open data to support Ou Chrov Administration to enhance budget transparency by making information on public finance and budget allocation publicly available, the project pursues more transparent and accountable decision making processes, improved resource allocation and better service delivery.
My duty was to consult with the Ou Chrov Administration and with the developer from ODC to analyze, design, and develop the whole project into a fully functioning website.
Visit Site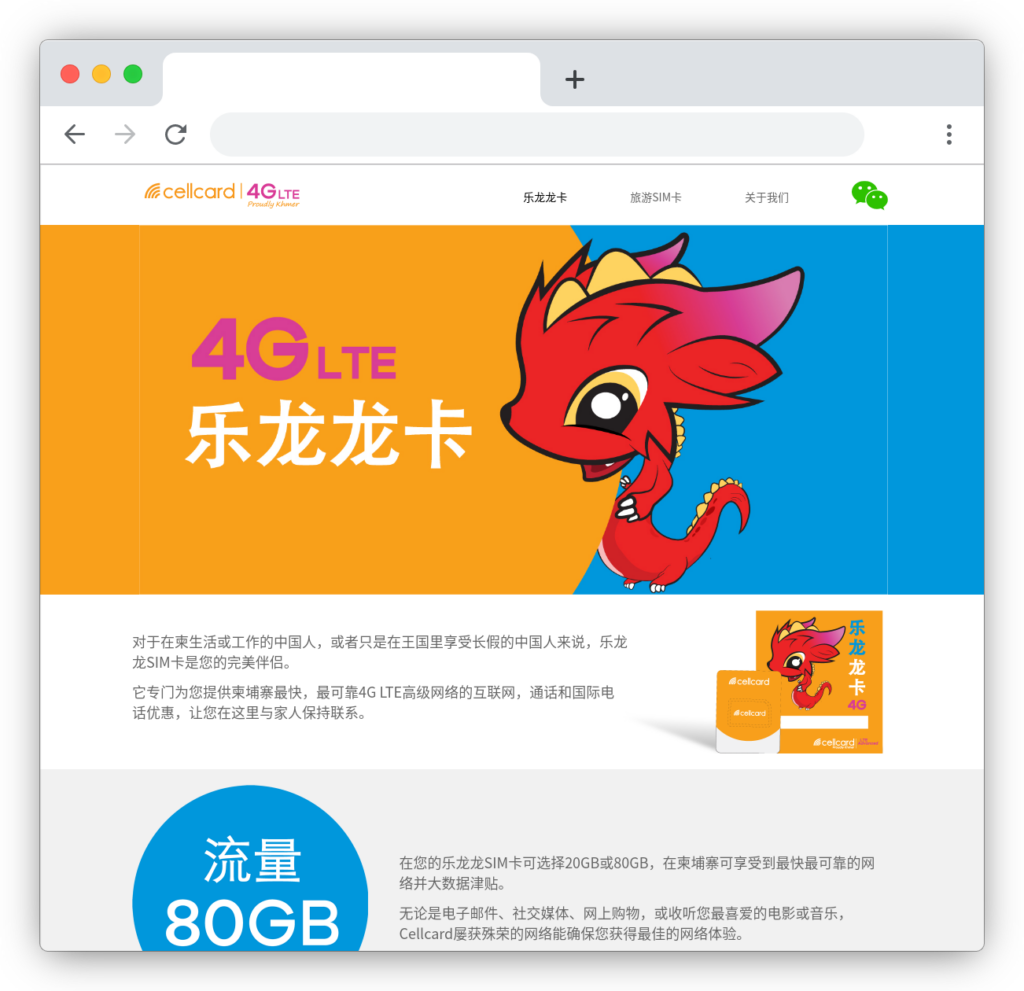 Cellcard Microsite
A leading in mobile telecommunication in Cambodia, Cellcard is expanding its business to target Chinese people who are living and investing in Cambodia. The site gives information about the company as well as promotions and feedback.
Visit Site